Cocktails are the main event here at Tin Lizzie Lounge! We love to mix and shake, as well as come up with new and exciting flavor and texture combinations to excite your palate with libations of all sorts.
While we have all of the fixings for a Dry Gin Martini or a classic Old Fashioned, we like to change things up now and again. A deliciously fantastic example of that is our Tin Lizzie Cocktail!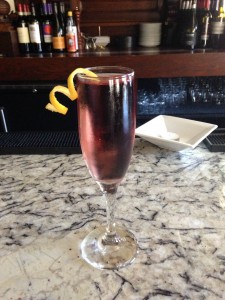 It's just as tasty as it looks, we promise! And if you've had it before, you'll want to bookmark this post for use later when cocktail hour hits! Here's how to make the Tin Lizzie Signature Cocktail at home:
What You Need:
Martini Shaker
Mixing Glass
Grey Goose Vodka
Chambord
St. Germain
Ruffino Prosecco
Lemon Twist
Steps:
Pour ¾ measure of Grey Goose, ¼ measure of Chambord, and ¼ measure of St. Germain into a mixing glass.
Add several ice cubes, and cap the glass tightly with your martini shaker.
Give the shaker 10 to 12 vigorous shakes.
Strain into a Champagne glass and top it off with the Ruffino Prosecco.
Drop in the lemon twist, and enjoy!
The Tin Lizzie Cocktail is summery and flirty, with a kick! With the raspberry-vanilla flavors of the Chambord, complimented by the bite of vodka and sweet lightness of St. Germain, the cocktail has its own unique concentrated taste that gets a refreshing perk from the prosecco finish.
It's a Tin Lizzie favorite, and we think it fits right in with the Manhattan cocktails and 'Planter's Punch' drinks that define the Classic Cocktail. Enjoy the Tin Lizzie Cocktail, or any other of our craft cocktails and house wines from 4 – 10 p.m. daily (we're open Monday through Friday at 8 a.m., but we assume your cocktail hour doesn't start before lunch).
What's your favorite classic cocktail?