Great cocktails, delicious food, and live music are a fantastic combination for a good time. Here at the Tin Lizzie Lounge, we host a live music night every Sunday to showcase some local musicians alongside our food and drinks.
To keep things a little different, we alternate between two artist groups. Some Sundays, you'll find classic beats and favorite tunes rendered by Laura Moreau and Clayton Coleman. Laura supplies rich vocals, with Clayton backing her up on vocals and playing piano or guitar for a funky soul sound. The duo is fantastic at mastering the mood and classics of R&B, soul, and more. You'll be clapping, snapping, and singing along! Click here to listen to their rendition of "I Ain't Never Loved a Man", originally by Aretha Franklin.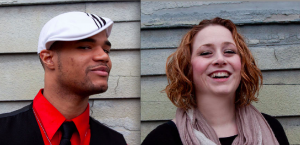 Enrique Henao hails from Columbia in South America. His guitar-playing days began at age seven, when his father began teaching him to play. Enrique started his career as a guitarist at age 13, and has since played all over the world. In addition to playing guitar, he composes his own music and teaches the instrument. According to Centro Cultural Hispano Americano, "He is a master at playing classical and jazz music, a soulful interpreter of flamenco, and a rhythmic performer of Latin American music." Enrique is one of our resident musicians here at Tin Lizzie, and we love his music and skill!
We love hosting these live musicians, and we certainly enjoy their work. The smooth, fun notes of R&B and soul from Laura Moreau and Clayton Coleman make for a great night of mood music, while Enrique's classical, jazz, or Latin compilations bring variety and something new almost every Sunday that he plays!
As you enjoy the sounds from Enrique or Laura and Clayton, don't miss out on our classic and craft cocktails, wines, beer, and bites! We have some fantastic beers on tap, wines by the glass or bottle, and tasty cocktails, plus a full menu of everything from small bites to Panini sandwiches or salad entrées.
We hope you'll join us for a Sunday live music night very soon! The show starts at 7:30 p.m., and promises to be a great way to round up the weekend.