Dim the lights, sink into a comfy damask chair or tufted booth, and prepare yourself to enjoy delicious food and artful cocktails at the Tin Lizzie Lounge.
This little lounge is located in the historic MarQueen Hotel in the Uptown, or Lower Queen Anne neighborhood – just minutes from downtown Seattle. It has a rich, intimate atmosphere with historic hints of prohibition times enmeshed with luxurious modern taste.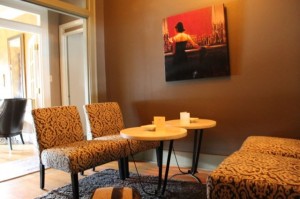 Not only is the place an excellent choice for Happy Hour on a weeknight or live music on Sundays, the bar and lounge offers unique space to rent for your intimate event or group meeting.
With two individual spaces that can be reserved together or separately, the Tin Lizzie has space that's perfectly customizable to your event's needs. Are you holding a small business meeting with out-of-town clients? Hosting a birthday celebration that requires delicious bites and fantastic drinks? Just looking for a special place to throw a great party? Reserve your space in the Tin Lizzie's comfortable private rooms, which are perfect for any event or celebration.
Join the two spaces to seat 25 guests, or reserve one or the other separately for your party size of 10 or 15 people. The rooms are separated from the public space of the lounge and bar for an intimate or exclusive ambiance at the back of the Tin Lizzie. Each is beautifully decorated so that you don't have to worry about that part of your gathering, unless you wish to add your own little enhancements.
If your event includes guests from out of town, please let us know so that we can coordinate special hotel and other service packages to ensure that your guests receive the best accommodations.
For your event, guests can order off of our seasonally-updated menu, which features delicious small plate options in addition to tasty salads and hearty Panini sandwiches. Several breakfast items are available if you wish to reserve the space for a morning meeting or celebratory brunch, such as a bridal or baby shower.
If you're looking for more customized catering, we are happy to arrange this for you, as well. All catering is provided through the Tin Lizzie's kitchen, and we are pleased to tailor our efforts to make your event as much a success as possible.
With the unique ambiance and specialized experience at the Tin Lizzie, we're sure that will find us the perfect venue for your celebration, corporate event, or gathering. Please contact Tin Lizzie.