Sometimes it's time for a bit of an update to keep things interesting and make your experience that much better. We've recently undergone some changes, and we thought that it was time to share them with you, so that you can get excited about what's coming!
We have welcomed Justin DeLong to our management team at the Tin Lizzie Lounge, and we're excited to see the effects of the changes he has made. Justin has been in the service industry for about 15 years now, with experience at restaurants all over the nation. Spirits and bartending became a focus for him 11 years ago, but it really became a passion after he moved to Seattle in 2008. Back then, he used to do his Algebra homework while sitting at the bar of well-known Seattle mixologist, Murray Stenson. As DeLong took notes, Stenson encouraged him to go deeper into the world of craft cocktails.
"I learned about cocktail history and the classic cocktails, who made them, and why they were important. In understanding why they were doing what they were doing with different flavor profiles, it allowed me to dive more into the craft cocktail world," DeLong said.
Now at the Tin Lizzie Lounge, Justin wants to enhance the cocktail experience for Queen Anne residents and visitors. "I'm inspired to give people in Queen Anne something they haven't seen in this area before," he said.
DeLong added a lot more selection to the bar, for a stock that is now much larger and more diverse than Tin Lizzie's reputation might hold. There is also a new cocktail and libations menu coming out next week around November 1st, which will have a section focused on classic, Prohibition-era cocktails, as well as another section dedicated to craft house cocktail creations.
"The selection of spirits and cocktails is really important to me. I feel like Tin Lizzie is more of a drinking place for drinks before and after dinner … We've really raised the bar in a lot of areas for what people expect when they come in here," Justin said.
An example of the improved selection and expectation is the Lounge's extended menu of Scotch whiskey. Where they only offered about five scotches in months past, Tin Lizzie Lounge now has 15 to choose from. "They range from extremely peaty to more mild and smooth," DeLong says.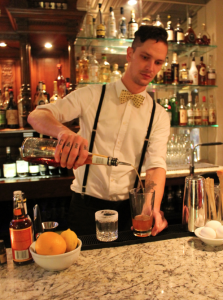 The wine list has also seen an overhaul, with the addition of more local and worldwide selections. The new wines-by-the-glass menu will have about ten red and eight white wines. All of those wines will be available by the bottle, and the Lounge will have a bottle-only selection as well for some of those higher-priced bottles. The new wine list will be launched with the new cocktail menu next week.
To complement the bar, Tin Lizzie Lounge's food menu is also getting a few changes. We're focusing on small plates, appetizers and finger foods that are great for sharing with a group. Some of the new items include Duck Confit and a pork belly plate. "We were going for foods that go well with cocktails, but are not too overpowering," Justin says.
House favorites will still be available, and you will not see many changes on the breakfast menu. The new food menu will most likely be released during the week of November 4th.
Overall, we're really excited about the changes here at Tin Lizzie Lounge. "The food fits the atmosphere more, to compliment the social aspect of drinking. People go out to be social and to share, and what better way is there to do that than to break bread?" Justin says. "I'm really excited about that and the new direction … We have a cohesiveness from the servers, to the bartenders to the kitchen. It's really cool to be part of a restaurant where all three levels are on the same page."
We look forward to serving you soon at Tin Lizzie Lounge! Come on by to check out what's new!